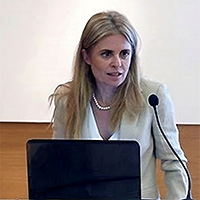 Dr. Marina Ioannou Hasapi is the Permanent Secretary of the Ministry of Education, Sport and Youth, since July 1st 2023.

Dr. Marina Ioannou Hasapi holds a Ph.D. in Labor Relations, postgraduate degrees in both Business Administration (MBA) and in Public Sector Management (MPSM) and a bachelor's degree in Accounting and Finance. She has previously served as the acting Permanent Secretary of the Deputy Ministry of Social Welfare, during 2021-2023 and has also served, for more than 27 years, in various positions of responsibility in the Department of Labour Relations of the Ministry of Labour and Social Insurance.

Dr. Marina Ioannou Hasapi has served as a member in various boards, such as the Board of the European Foundation of Living and Working Conditions, the Board of the Cyprus Organization for the Marking of Precious Metals (ASSAY), and the Board of the Cyprus Human Resources Management Association.

Dr. Marina Ioannou Hasapi has also taught, for many years, Labour Relations, both at the University of Cyprus as well as at the Mediterranean Institute of Management.