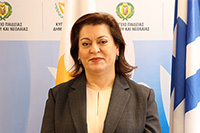 Dr Athena Michaelidou was appointed Minister of Education, Sport and Youth on March 1, 2023.

Dr Michaelidou is a graduate of the Cyprus Pedagogical Academy and has received her bachelor's degree from the University of Thessaloniki. She has an M.A. in Education from the University of Manchester and has completed a Ph.D. in Educational Studies at the University of London, specializing in educational research and evaluation. Having served as a public-school teacher, she then went on to teach as a professor of Pedagogy at the Cyprus Pedagogical Institute, also serving in the positions of its Head of the Research and Evaluation Department, Head of the Educational Research and Evaluation Center and, finally, as its Director. In this capacity, she served as Acting Permanent Secretary of the Ministry of Education, Culture, Sport and Youth (MOESY) and has represented the Ministry abroad in working groups of the European Commission on education issues. She also worked as collaborating educational staff at the Open University of Cyprus and the University of London.

Dr Michaelidou has coordinated a number of horizontal actions and innovations of MOESY and has coordinated and taught for many years seminars and programmes on educational innovation, action research and educational policy. Her research interests mainly concern professional development and the introduction of innovations in education.

In July 2022, by decision of the Council of Ministers, Dr Michaelidou was appointed as Acting Permanent Secretary of the Deputy Ministry of Culture, bringing her extensive knowledge of educational administration to build a strong foundation for the newly established Deputy Ministry.

Dr Michaelidou comes from Kyrenia, and is a mother of two.