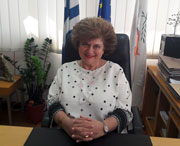 Egly Pantelakis was born in Nicosia and is a graduate of the English School Nicosia and of the Cyprus National Music Conservatory. She has obtained diplomas in piano teaching and performing including the Licentiate of the Royal Schools of Music (L.R.S.M. – performing).

She studied economics at the London School of Economics and Political Science (L.S.E.) and did post graduate studies in Administrative Sciences in the City University, in London. Later on, she successfully completed the Workshop in Environmental Economics of the Institute for International Development of the University of Harvard.

She has worked at the Planning Bureau, where, since 2013 she held the position of Director of Planning in the Directorate of Development Policy. She also served as National Coordinator (at a technocratic level) for the promotion of the Lisbon Strategy. Between 6 July 2009 – 14 March 2010, she served as Acting Permanent Secretary of the Ministry of Agriculture, Natural Resources and Environment, in addition to the duties of the position she held at the Planning Bureau. On 15 March 2010 she was appointed Permanent Secretary, of the abovementioned Ministry.

During her service at the Ministry of Agriculture, Natural Resources and Environment she represented Cyprus at various Ministerial Conferences and Councils of Ministers of Agriculture/Fisheries and Environment of the European Union, as well as in many International Conferences on issues like climate change, biological diversity, sustainable development etc.

Egly Pantelakis was a member of the Town Planning Commission and the Board of Directors of the European Lifelong Learning Programmes Foundation. She has also been the Chairman of the Board of Directors of the Agricultural Insurance Organization. She was a Founding, member and a member of the Executive Committee of the society "Friends of the L.S.E. in Cyprus". She is an active member of the Commonwealth Partnership for Technology Management (C.P.T.M.).

As from 10 January 2014 she is the Permanent Secretary of the Ministry of Education and Culture. She is the chairman of the Board of Directiors of the Foundation of the Cyprus Symphony Orchestra, as well as of other Foundations and Committees, relating to culture and education.