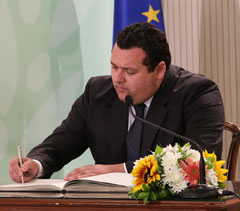 Mr Kyriakos Kenevezos assumed office as Minister of Education and Culture on 1 March 2013.

In 2000, he was elected for the first time as a member of the Central Committee of the Democratic Party. In 2005, he was elected as a member of the Executive Bureau of the Democratic Party. In March 2007, he was elected General Secretary of the Democratic Party, a position to which he was re-elected in March 2009. He also held the position of Commissioner on Justice and Law Affairs of the Democratic Party.

In 2008, he founded his own law office in Lemesos (Limassol). He participated in many student, trade union and political conferences, while he systematically writes in the daily and weekly Press.

He served as a member of the Democratic Party Youth (NEDIK), President of the Democratic Party's student movement "Anagennisis" in Athens, President of the National Student Union of Cypriots in Athens (EFEK), as well as President of the Pancyprian Federation of Student Unions (POFEN).

He graduated from Laniteion Lyceum B' and served his military service as a Sub-Lieutenant of the artillery. He studied Law at the Law School of the National and Kapodistrian University of Athens.

Mr Kenevezos was born in Lemesos in 1972.

He is married to Chrysemily Psiloyenis-Kenevezou from Lemesos.